Textpattern CMS support forum
Bloke

Developer

From: Leeds, UK

Registered: 2006-01-29

Posts: 9,994
Re: PHP 8, MAMP, alternatives for local development
Just gone down an Internet rabbit hole and found project boards like this. Handy as I'm always mucking around trying to find bits of card to solder onto to avoid ruining the kitchen table. But you can't draw on these mats to label stuff like you can with a magnetic white project board.
The search continues…
colak

Admin

From: Cyprus

Registered: 2004-11-20

Posts: 8,467
Re: PHP 8, MAMP, alternatives for local development
I still have a macbook pro titanium from 2006 which still works, be it without the battery which I took off years ago. I keep it to open old documents the formats of which are no longer compatible with my current setup.
jakob

Admin

From: Germany

Registered: 2005-01-20

Posts: 4,035
Re: PHP 8, MAMP, alternatives for local development
To get back to your original request:
So please, if you would set up a Txp installation from scratch using 4.8.5-dev to stress test:

No database connection at all
Incorrect DB login and/or password
Incorrect table name
Correct table name but tables already exist
Correct/incorrect table name with prefix that does/doesn't already exist



You shouldn't see any yucky PHP error messages during setup, just nicely formatted (red) error messages from Txp itself, with the real PHP-generated errors squirrelled away in your logs.
I went through all your tests with the current dev branch cba9688a… / 18.12.2020 and all is good.
Textpattern version: 4.9.0-dev (ce39106fc5e6f468204abd84effee286)
Last update: 2020-12-18 15:08:10/2020-12-16 09:43:11
Textpattern path: __TXP-ROOT/textpattern
Article URL pattern: section_title
Production status: testing
Temporary directory path: __TXP-ROOT/textpattern/tmp
PHP version: 8.0.0
GD Graphics Library: 2.3.0; Supported formats: GIF, JPEG, PNG, WebP.
Server timezone: UTC
Server local time: 2020-12-18 15:08:15
Daylight Saving Time enabled?: 0
Automatically adjust Daylight Saving Time setting?: 0
Time zone (GMT offset in seconds):  (+0)
MySQL: 8.0.22 (Homebrew) 
Database server time: 2020-12-18 16:08:15
Database server time offset: 0 s
Database server timezone: SYSTEM
Database session timezone: SYSTEM
Locale: de_DE
Site / Admin language: en / en
Web server: nginx/1.19.5
PHP server API: fpm-fcgi
RFC 2616 headers: 0
Server OS: Darwin 19.6.0
Admin-side theme: hive 4.9.0-dev
Already installed

No connection / Incorrect details

Incorrect DB name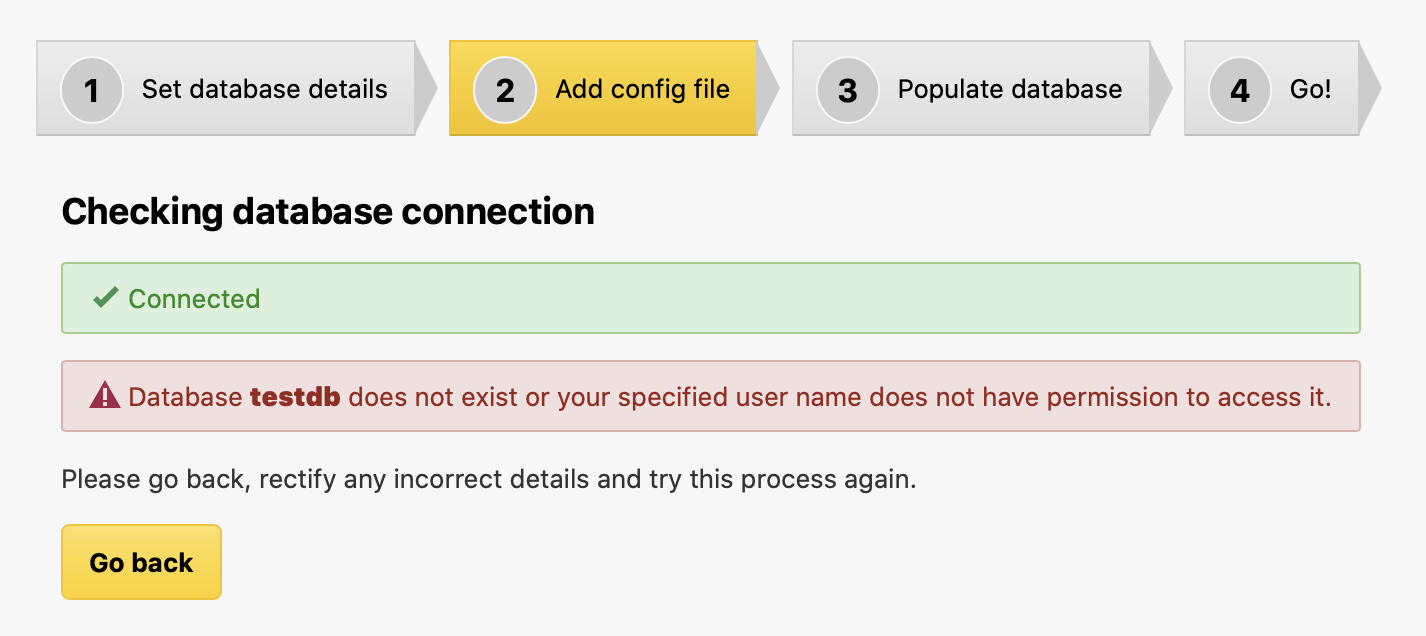 Tables already exist / DB with existing prefix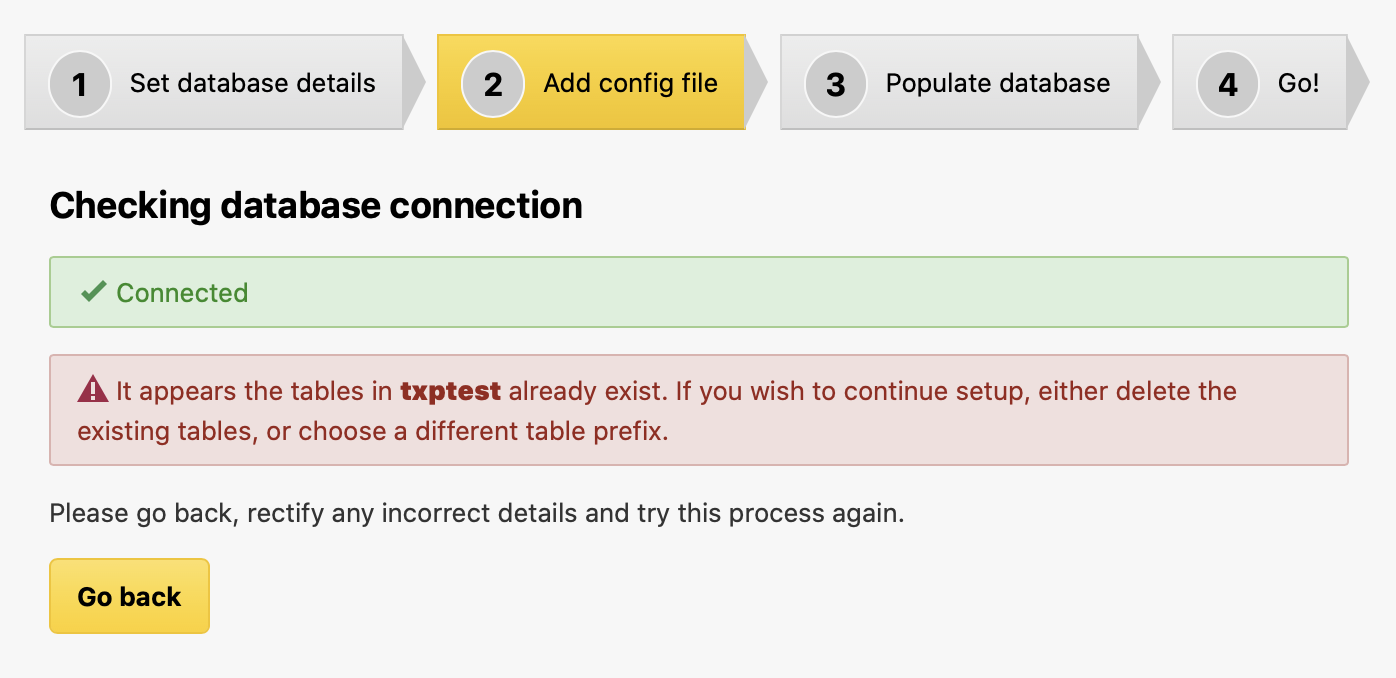 Same DB, new prefix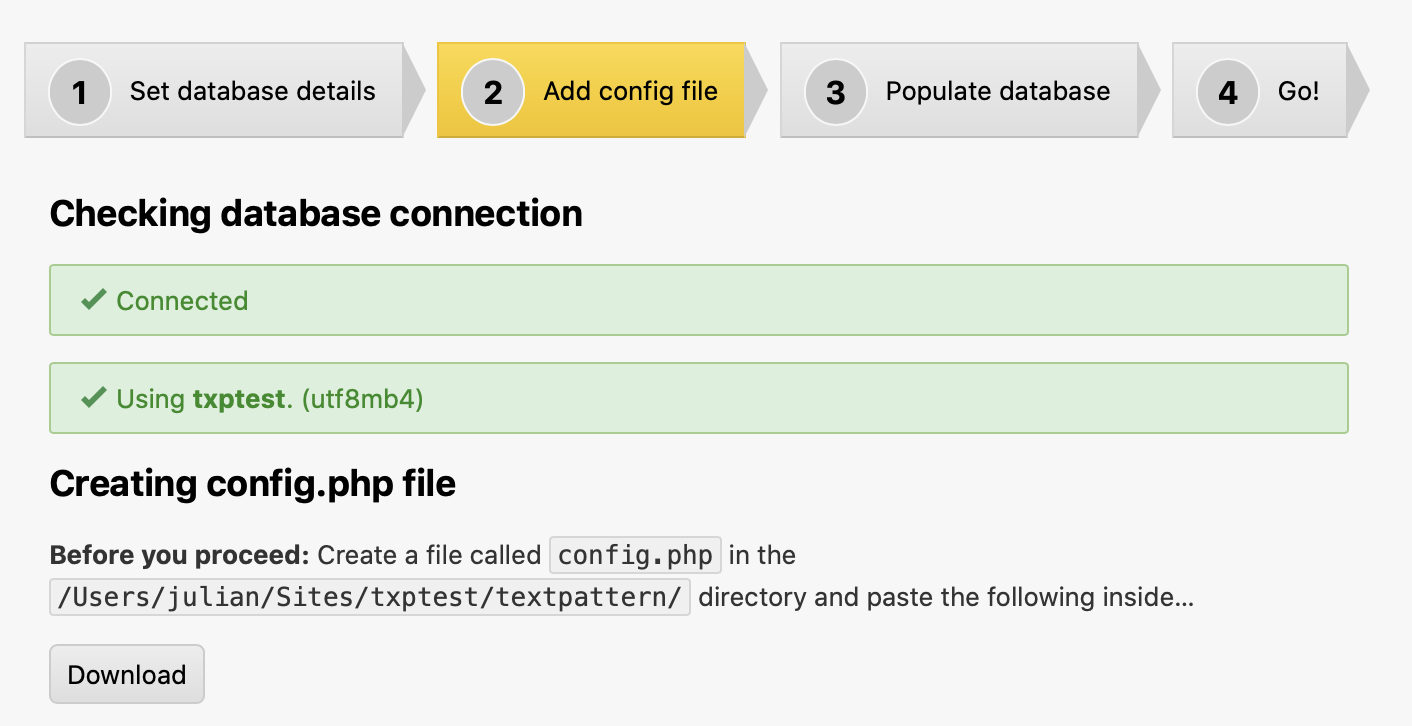 Modified config.php (changed db name)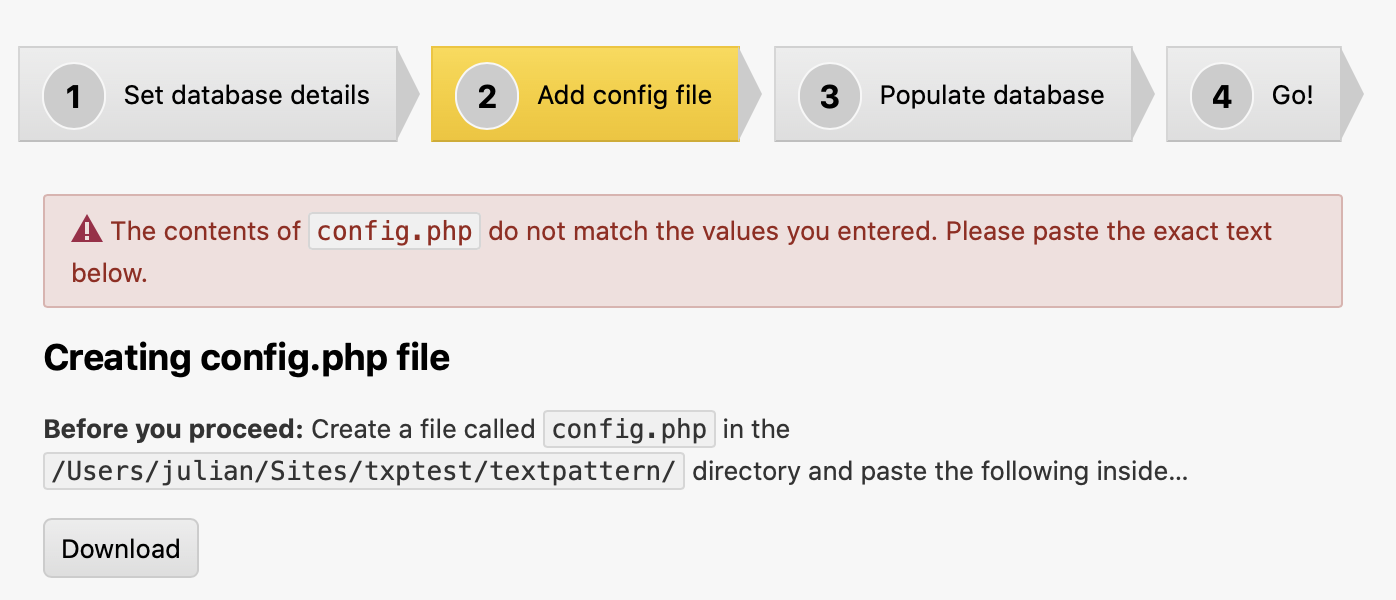 PS: The new 4.9.0 admin tweaks are looking good, Phil!
Bloke

Developer

From: Leeds, UK

Registered: 2006-01-29

Posts: 9,994
Re: PHP 8, MAMP, alternatives for local development
Yay! Thank you for testing those, Sir. Glad I've not bungled it. It's fun debugging something when you can't see the error so have no clue besides intuition whether it's been fixed or not :)
bici

Member

From: vancouver

Registered: 2004-02-24

Posts: 1,789
Re: PHP 8, MAMP, alternatives for local development
gaekwad wrote #327601:
Aside: I love how many folks around here have vintage Macs that just keep on going. Brilliant.
Old Folks With Vintage Macs
Good name for a Grateful Dead song
Mine: MacBook Pro (13-inch, Early 2011)