We are currently working on a redesign of the Textpattern Resources site with a goal of completing it for the Fall CSS Reboot effort. In order to complete the redesign, we'd like to solicit the help of the Textpattern community in the form of a little contest. The contest will have 2 parts: logo design and icon design. Both contests have a submission deadline of September 9, 2005. Please submit your entries to admin [at] textpattern [dot] org.
The logos will be posted on the Textpattern Resources site for comments after the submission deadline but the winner or winners will be picked by Alicson and myself. You can enter one or both of the contests as many times as you'd like. The more the merrier. If you don't want your submission posted, just let us know.
The winner or winners will receive all the fame and glory associated with an appearance on the About page of the site which receives over 130,000 visits per month and rising.
Logo Contest
The only restrictions on logo submissions are that they use colors from the palette below. Please submit your entry in .gif or .png format. We may ask the winner to make slight adjustments to their design based on size restrictions which are TBD.
Icon Contest
Icons should again use the color palette below. We're looking for a series of icons to represent the following:
Plugins
Mods
Tutorials
Templates
Help
Home
at least 2 general use bullets
You can optionally include icons for the following:
About
Sitemap
Archives
Feeds
Links
You're welcome to make up your own additional icons as well if you think they'll be helpful.
Color Palette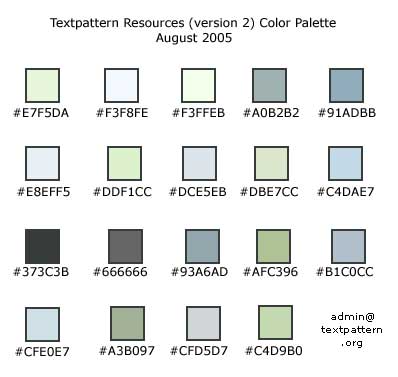 Thanks and good luck! Feel free to post or email any questions.